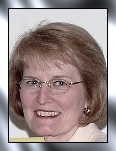 Johnnie Ann Burgess Gaskill is a wife, mother of two (Jennifer and Jena) and grandmother of three (Ryan, Bailey, and Peyton) who lives in Georgia (USA). Prior to becoming an empty nester, she was a public school teacher and a Media Library/Education Director.
In February of 1984, Johnnie sensed God calling her to be a writer. In August of that year, a newspaper accepted her "Reflections" for publication, and she has written weekly inspirational/devotional columns since then. The three Georgia newspapers for which she now writes have a combined circulation of more than 30,000. Her work has appeared in various print publications, as well as on websites.
Her first book, Reflections, was published in 2002 and is a compilation of 175 of the best newspaper columns she wrote between 1984 and 1992. (Future books will contain later ones.) She is a contributing author for Chicken Soup for the Volunteer's Soul; O, Georgia! A Collection of Georgia's Newest and Most Promising Writers; and Nudges from God.
When Johnnie isn't writing or assisting her husband with his home-based business, she enjoys reading, walking, typesetting, traveling, taking pictures, attending writers' meetings, being creative, volunteering, and, of course, spoiling the grandchildren!


Johnnie Ann Burgess Gaskill
Visit her on the web:
http://eThomaston.net/johnnie
http://community.webshots.com/user/author02